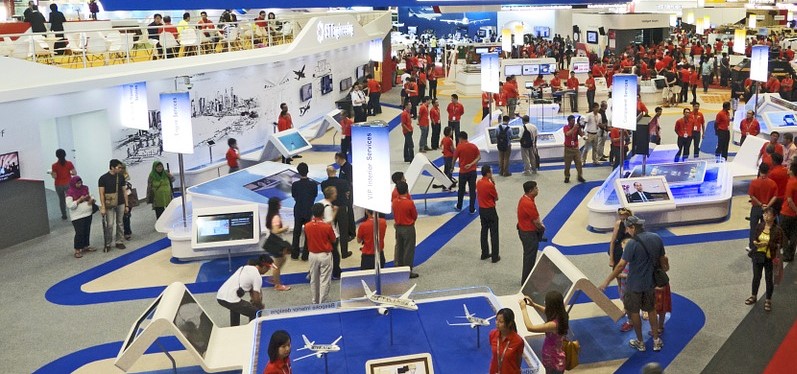 No matter what your business specializes in, there's one thing you want to avoid at all costs: blending in. When you're designing your company's advertising materials and promotional items, you want to be sure that you're going to stand out against your competitors or other booths at a trade show. If you want your business to be the first one noticed by potential customers and passersby, use these tips to design eye-catching banners for your example exhibit booths and other marketing events.

Location, Location, Location
A banner is only good if it's easily seen by people walking past, and the easiest way to make sure your banners get noticed is to put them in the right place. Make sure all the most important information like your company's name and logo are at eye-level. This guarantees passersby will see your company's name without having to search for it. Don't put it too far from your business's example exhibit booth, either; you don't want people to have to search too hard to find you.

Bright And Bold
When you're working on the design of your banner, avoid colors that will cause your banner to blend in with its surroundings. Neutral colors might look good in theory, but they can make your display seem a bit bland. This goes as well for any table throws or business swag you might be using; pick colors that are bold, but not clashing.

Keep It Legible
The most important part of marketing design is making sure your information comes across clearly. Avoid fonts that are difficult to read, even if they might look unique and beautiful. If someone walking past can't quickly and easily read your sign, it's defeating the purpose.

Go High Tech
For those feeling a bit adventurous or bold with their design, consider using digital displays or video walls instead of standard banners. These have more options for interaction and can display a variety of images, rather than a single static logo. The interactive video wall market is expected to reach approximately USD 17,647 million by the end of 2023. If you're the only one using a video wall, you're sure to make a statement and catch people's attention.

Designing the right promotional material for your business can be a challenge. However, using these tips, you're sure to create banners and other promotional items that will draw in potential customers curious about you and your business.